S4 Splitter for the RSR and RS4 Bumper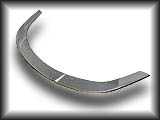 LLTEK has added another Performance Design upgrade for the Audi A4/S4. This aero splitter matches up with both the RSR UBERHÄUS front bumper or Rieger Tuning's RS4 Bumper. It is available with LLTEK's MatchPaint option or in real Carbon Fiber. Click and view images of both.
S4 Body Kit Styling Lip Spoiler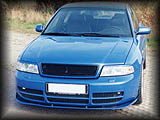 This Splitter for the A4 / S4 B5 will provide authentic track and speed credentials. Easy-on or Easy-off fastening allows the A4 / S4 to indulge quick personality changes. Initial installation will determine the rake and clearance in the splitter.