Wide Body Kit Styling for the Audi Q7 and S-Line by JE DESIGN
No comparison - like the difference between Heidi and Marlene Dietrich.
Your Audi Q7 will not be recognized. Once again, JE DESIGN presents bold, innovative, strong and uncompromising design - all hallmarks of this German tuning firm. Yes, it's still an Audi Q7; but without the badging to provide the clues - other drivers would be hard-pressed to identify this aggressive styling. If you are an individual who appreciates "next-level" styling, then this is an option for your North American Q7. Take note of the quad lighting package for fogs in the lower lip. JE DESIGN was the first to feature this styling option.


LLTek will accept Special Edition Wide Body Q7 Kit orders today. Call LLTek with your questions on our toll-free line now - 1 888 465 5835 - a friendly and knowledgeable LLTek representative will provide answers.
Image Gallery - Wide Body Kit for the Audi Q7
Click Any Image and View Enlarged Version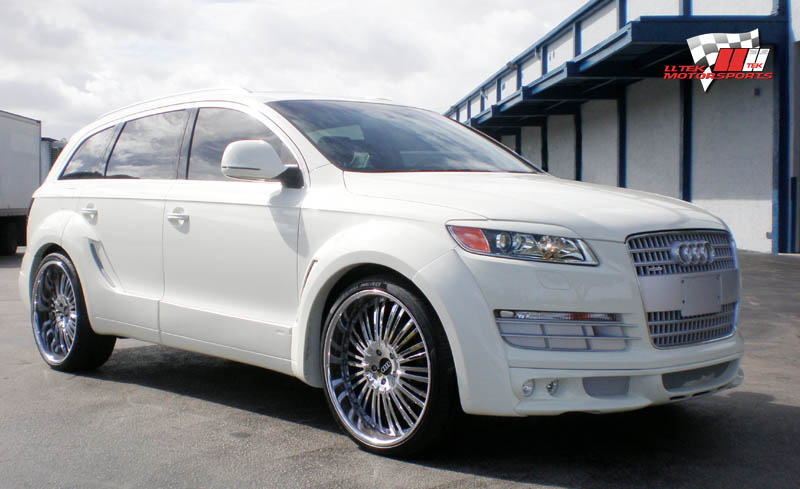 Audi Q7 with Widebody Styling Kit Completed - Florida 2007. Our thanks to WG for the photo.
Body Kit Styling for the Audi Q7 - Parts and Pricing

Part#
Description
Price

JEQ74L-02
Front Spoiler
(Exclude S-Line) 06>
$1299.00

Summer 2010 - Front Lip spoiler styling for S-Line Audi Q7 - always a strong statement from JE DESIGN


JEQ74L-09S
Front Lip Spoiler
(fitment for S-Line only)
$699.00



QGYT-Q74L PFL GBK
Fitment for Audi Q7 2006 -2009
Quantum aftermarket replacement grille
$488

JEQ74L-03
Twin Light Set 06>
for use with spoiler JEQ74L-02
$199.00

JEQ74L-04
Rear Valence (w/PDC) 06>
$1788.00

JEQ74L-05
Roof Spoiler 06>
$1788.00

JEQ74L-06


Wide Body Wheel Arch Kit
(Exclude S-Line)
$5999.00
JE-STEER-VWA
Widebody Steering Angle Limiter
$155.00

Summer 2010 - Widebody Wheel Arches for S-line Audi Q7 - styling by JE DESIGN



JEQ74L-10S


Wide Body Wheel Arch Kit
(fitment for S-Line only)
$5999.00


Click and View More Detail on Audi Suspension Lowering

IBWQ74L-01
Lowering Module
Multi Level Settings - TÜV Approved
For Use with OE Air Assist Suspension Only

$2331

JEQ74L-07
Diamond Head Quad Exhaust Tailpipes
$1499.00

JEQ74L-08
"Street Sport" Side Skirts (6 pieces)
$1333.00
JE-Spacer-VWA-120
Heavy Duty Spacer
Customer must specify bolt pattern.Includes new bolts
$899
JE-Spacer-VWA-130
Heavy Duty Spacer
Customer must specify bolt pattern.
Includes new bolts
$899

Call now and speak with a friendly and knowledgeable LLTeK Representative!

LLTeK can be reached toll-free in North America 1 888 465 5835 or call direct for International 001 514 7333 6333
LLTeK business hours are Monday to Friday - 8:30AM to 5:00PM EST (GMT -5)

JE DESIGN Wide Body Q7 Kits and parts are CUSTOM ORDER only. A refundable security deposit of 50% is required (made by credit card) and held until payment in full (certified check, money order or electronic bank transfer) is received. Upon receipt, the full deposit card charges are reversed.

View Alternative Styling for the Audi Q7 2006 2009
Q7 BODY KIT Styling by

View Caractere Body Kit Styling for the Audi Q7
Q7 BODY KIT Styling by

View Hofele Body Kit Styling for the Audi Q7