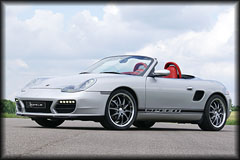 German car designer and and tuning house Hofele has released the latest addition to its Styling for Porsche lineup in the form of a "Speed" bodykit for the 986 Boxster. This Porsche Roadster kit by Hofele offers a front and rear bumper with sideskirts and a wing extension. 986 owners can also choose from from an array of tuning options including wheels, LED lighting, pedals and stainless steel exhaust systems. You can view large detailed images of the main bodykit parts by clicking on the Slideshow link located directly below.
If you have questions about this styling upgrade or any other products offered by LLTeK- call toll-free in North America at
1 888 465 5835
- 8:30 AM until 5:00 PM (EST). International calls and questions can be made at
001 514 733 6333 - our time zone is GMT -4
because LLTeK ships Worldwide.
Line#
Part#
Description
Composition
Price
1
HF986/996-9451

986/996 SPEED GT Front Bumper
For vehicles without parking sensors


Combination
Plastic
Fiberglass
$1544
2
HF LED-5077-B
LED Light Kit - Dark
-
$499
3
HF LED-5077-C
LED Light Kit - Clear
-
$466
4
HF986-9465
986 ST Headlight Mask
For vehicles without headlamp washers

Combination
Plastic
Fiberglas
$733
5
HF986-9465-SRA

986 ST Headlight Mask
For vehicles without headlamp washers
Combination
Plastic
Fiberglass
$833


6
HF986-9452
986 SPEED GT Side Skirts Left&Right
Combination
Plastic
Fiberglass
$1055
7
HF LOGO SPEED GT
GT SPEED Decal
-
$188
8
HF986-9453

986 GT SPEED Rear Bumper
Combination
Plastic
Fiberglass
$1355
9
HF986-9457

986 SPEED GT Rear Spoiler
Combination
Plastic
Fiberglass
$966
11
HF986-9468

986 BOXTER Sport Muffler 2.5 (2 x Oval )
Dual Oval 115 x 85 mm
Fitment for original bumper or SPEED GT bumper
Stainless steel
$2188
12
HF986-9469
986 BOXTER Sport Muffler 2.5 (1 x Oval )
Single Oval 135 x 80 mm
Fitment for original bumper or SPEED GT bumper
Stainless steel
$2188
13
HF986-9470
986 BOXTER Sport Muffler 2.7/3.2 (2 x Round)
2 x Round 80mm tips
Fitment for original bumper or SPEED GT bumper
Stainless Steel
$2188
14
HF986-9471
986 BOXTER Sport Muffler 2.7/3.2 (2 x Round)
2 x Rolled 80mm tips
Fitment for original bumper or SPEED GT bumper
Stainless Steel
$2188
15
RDI996/986-30 PEDAL

Aluminum Pedals Automatic (986 / 996)
Aluminium
Billet
$166
16
RDI996/986-31 PEDAL

Aluminum Pedals Manual (986 / 996)
Aluminium
Billet
$166
17
RDI996/986-32 FOOT

Aluminum Footrest (986 / 996)
Aluminium
Billet
$166