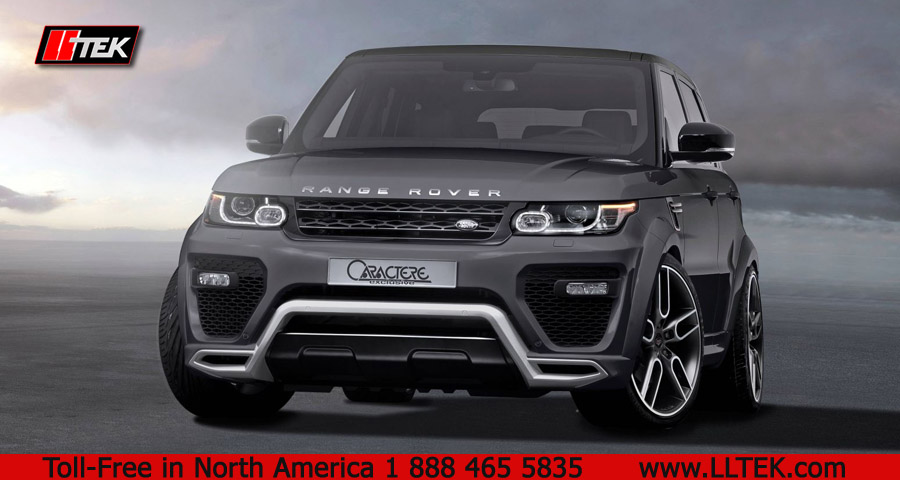 Top Drawer Styling in Pu-Rim
PolyUrethane Reaction injected moulding (PU-Rim) is the gold standard in OEM (original equipment manufacturer) and "aftermarket" automotive parts. Caractere bears this standard and has done so from the beginning; it is one of the reasons that LLTeK imports these refined upgrade parts designed, engineered, and manufactured in Europe AND, why LLTeK has been doing quality for twenty years - you can see our first Caractere import example here. It has never ocurred to us that owners of mid-size luxury SUV's (such as the 2014> Range Rover Sport) would consider anything less than fine quality when it came time to modifying their fine machine. Last year, in 2016, LLTeK celebrated 20 years of business that has revolved around modifying German cars; we are pleased to expand offerings (via Caractere) to the iconic British marque of Land Rover. Call with your questions and call at the time that is most convenient for you - LLTeK's business hours are 8:30 AM to 5:00 PM ET (GMT -5), Monday through Friday and it's toll-free in North America 1 888 465 5835.
MOBILE TAP & CALL!
888-465-5835



International callers can reach LLTeK at 001 514 733 6333.
Simplifying the Process
One call and your SUV is one step closer to the LLTeK style changes you consider worthy for your Land Rover; call with your questions and speak with a real person who knows these products! Get the ins and outs on a project for your vehicle and get all details confirmed via e-mail followup. If time zone differences (LLTeK business hours are 8:30 AM - 5:00 PM ET) are an obstacle - click the link and communicate in writing.



Request Info on Caractere Range Rover L494