When luxury car manufacturers BMW and Mercedes-Benz introduced competitively-priced lower echelon models that immediately ate into same-category Volkswagen sales - Volkswagen, the giant German auto maker, decided to respond in kind and go upscale. The resulting product from the makers of the "peoples car" was the Phaeton - an uncomprising saloon with comfort and technology that would merit some serious tire-kicking and lure luxury car owners away from their current brand loyalties.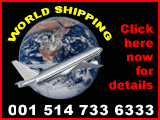 In North America, where the Volkswagen Phaeton also had to compete against rebranded luxury Japanese lines like Lexus and Infiniti - the large VW badge fitted front and rear on the Phaeton was perceived as overreaching instead of the achievement the car actually was - that being a world class and top of the line executive machine. After only three model years ('04, '05 and'06), Volkswagen's luxury edition Phaeton was quietly withdrawn from the North American market amid whispers of failure and Hindenberg.
Now, strong rumours are circulating - suggesting the VW Phaeton will be making a comeback in North America. Regardless of the outcome - LLTeK's world wide shipping program will address concerns about getting your body kit styling conversion started wherever you live.

There are an estimated 2300 VW Phaetons in North America (give or take) and recent estimates on sales show these vehicles selling for a fraction of their original cost, despite numbers that show owner satisfaction for this vehicle are extremely high. Call today for details on how you can transform the appearance of your present (or future) Volkswagen Phaeton - from non-descript to lightning bolt impressive. These parts are tested and approved by TÜV - a Euro-German state transportation agency before being offered on the market.

Complete Conversion HF Mthos $7377


Front Bumper with Integrated Fog Lights
Rear Valence with integrated Exhaust & Tips
Trunk Panel with Integrated Rear Spoiler
Badging & Graphics

Save $799



Part #
Part Description
Composition
Price
HFVP 6851/6852
PHAETON Front Bumper with Integrated Fog Lights
High Performance Fiberglass
$5244


Bumper includes front grill and hood extension - Fitment for vehicles with or without parking sensors.

HFVP 6854
PHAETON Rear Valance with Integrated Exhaust Tips
High Performance Fiberglass
$1977
HFVP 6855
PHAETON Trunk Panel with Integrated Rear Spoiler
High Performance Fiberglass
$955