Track Styling in ABS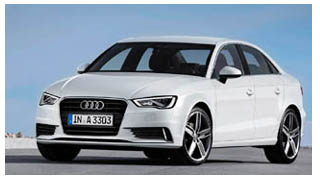 Rieger has released its body kit images for the latest Audi A3 typ 8V. The Rieger model showing above will not make it to North America (it's the hatchback or in simple terms a 3-door), but it will provide a true template of styling parts that will be available for its cousin the 4-door sedan --> (unmodifiied OEM on right) poised to make its debut in North America. There are still question marks about the new 5-door sportback and whether or not it will continue to be sold in North America or be replaced. Update July 2013 - The 4-door sedan will replace the 5-door sportback and is expected to be released in spring of 2014 as a 2015 model.

Trivia for the day - the new A3 will be more or less the same size as the original A4 B5 - plus - it was designed by Canadian Dany Garand.

A note about the Audi A3 - navigating your way around this model is a bit like navigating a maze. Audi line-ups have never been 1-2-3-A-B-C when it comes to getting aftermarket parts (OEM or tuning) to fit. The A3 is a particularly abberated little animal. The lineup can be set out with engines - gas / diesel / electric as A3 S3 S-Line and an expected RS3 with hatchback, sportback, sedan, and just for fun - throw in a cabriolet configuration. Some stay in Europe, some come to North America and now some will be made in China. Your clue to purchasing parts that fit will depend on your supplier/ tuner of choice. That's where LLTeK has and will continue to shine.

The A3 comes in all different sizes (widths and lengths) and so in order to simplify the acquisition of a body kit that you know will go straight on - LLTeK will divide the line down into 3-door (hatchback), 4-door (sedan) and 5-door (sportback). Sideskirts, spoilers, bumper caps will all be clearly tagged with fitment and compatibility characteristics.
TAP & CALL!



International callers can reach LLTeK at 001 514 7336333.
Simplifying the Process
One call and your machine is one step closer to the LLTeK style changes you consider worthy of your Audi A3; call with your questions and speak with a real person who knows these products! Get the ins and outs on a project for your vehicle and get all details confirmed via e-mail followup. If time zone differences (LLTeK business hours are 8:30 AM - 5:00 PM ET) are an obstacle - click the link and communicate in writing.



Request Info on Rieger A3 8V 2014-16