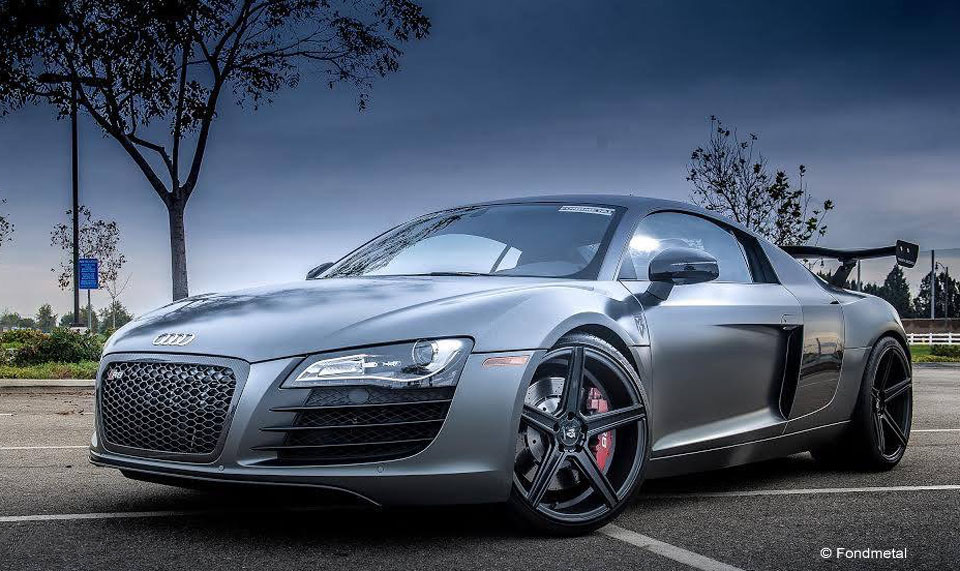 1st Choice in Modifications!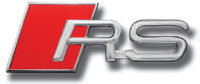 LLTeK Motorsports is often first past the post in offering body kit styling for the aftermarket Audi enthusiast in North America. Here is another example with the release of exclusive RS grilles for the Audi R8. Our expertise is accrued by years of passion combined with ownership of Audi cars.

The prototypical grille design for the current line of Audi vehicles hails from the past - in essence, the Type D (1938-1939) racing machine, an open-wheeled monster possessing a 485-hp, 3.0-liter V-12. Although the single frame grille back then was configured for the vertical because the "Type D" looks more like a Saturn 5 booster than today's R8 deck streamer, the design immediately sets Audi apart with a recognition factor that is the envy of car manufacturers around the world.

You can put rings on this grille or not. You can put a badge on this grille or not. If you have a black R8, you can go "Darth Vader" on this grille. If you have a white R8 you can go "Lone Ranger" - it's your grille.

Questions? Call LLTeK Toll-Free at 888-465-5835 in North America, International calls - 001 514 733 6333. LLTeK business hours are Monday through Friday 8:30 AM to 5:00 PM (EST) - International: GMT -5:00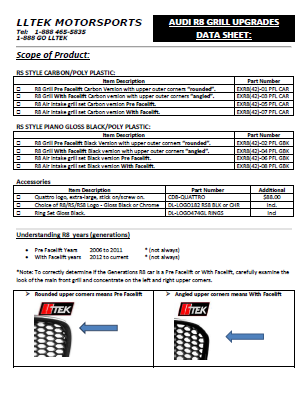 Click and View PDF - LLTeK R8 Grille Data Sheet
Review this information & determine which grille will fit your Audi R8

We are expecting your call and we are ready to answer your questions. In 2016, LLTeK celebrated 20 years of business dedicated to modifying German cars; call at the time that is most convenient for you - LLTeK's business hours are 8:30 AM to 5:00 PM ET (GMT -5), Monday through Friday and it's toll-free in North America 1 888 465 5835. International callers can reach LLTeK at 001 514 733 6333.

One call and your car is one step closer to RS styling.

Yes, you can complete this at home with a few tools and a friend or two. We've seen it done by individuals who are determined and diligent. On the other hand, if you are not the least bit mechanically inclined or have shown impatience when you're around tools - OR - you just have zero interest in do-it-yourself modifications, the good news is that virtually any shop (and that would include your Audi dealership) can get the OEM pieces off and the new ones on without breaking a sweat.
RS Grille Styling - Audi R8 Typ42 (before facelift)
Completed Project Photos
RS Grille Styling Options for Grills - Audi R8
Badges & Accessories

Quattro logo (approx 18" wide)
Adhesive + 3 screw mounting points
Item ID# CDB-QUATTRO

Composition: ABS

Centre Grille Option - $88 ea.

Adhesive Backed Badging
Choice of Gloss Black or Chrome
Composition: Poly/Plastic
Item ID# DL-LOGO182 RS8

Centre Grill Option Included
MOBILE TAP & CALL
888-465-5835


Toll-Free in North America
8:30 AM - 5:00 PM ET (GMT -5)
Monday Through Friday
International Calls 001 514 733 6333
Audi R8 Typ42 Modifications
Direct from Germany