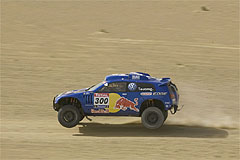 Welcome to the LLTeK Touareg II modification and tuning page. We are pleased to present both the widebody kit from JE DESIGN for the new VW Touareg 2011. This fully functional German off-road SUV now boasts a set of world beating rally pedigrees and it can be dressed up for friday nights too.

While it's true that most visitors would not be willing to take their newly installed wide body styling kit from Hofele into the Russian desert, all VW Touareg owners know the machine is more than capable of taking up the challenge.

LLTeK Motorsports is pleased to present these aftermarket styling upgrades for the 2011 VW Touareg II. Click on an image below and view the body kit modifications produced in Germany. You will find BIG PICTURE details of front spoilers, wide body wheel arches, exhaust diffusors, custom quad exhaust tips and a sporty roof spoiler for your Touareg. Are you looking for electronic suspension lowering or 22" wheels? Give LLTeK a call toll-free in North America 1 888 465 5835 - we're open Monday through Friday - 8:30 AM to 5:00 PM EST (GMT -5).